Excerpts from the book "A Bicentennial History of Dekalb County, Tennessee" by Thomas Gray Webb
... General Morgan's men had not been at the Battle of Murfreesboro, as Bragg had ordered them at that time on a raid into Kentucky to destroy the Louisville and Nashville Railroad. They left on December 20 and camped that night in DeKalb County at Alexandria. General Morgan had married Miss Mattie Ready of Murfreesboro only a week before, on December 14. Tradition says that they spent the night of December 20 at the Browning Tavern in Alexandria. The next day near Alexandria they reviewed his division. " The day was clear and fair, and there were many visitors to witness the the event. Morgan, with Mattie at his side, and his guest, stood on a little knoll overlooking a valley while 'company after company moved forward into line, with sabers jingling, horses prancing, firearms glistening, bugles blowing, and flags waving.' Off on the right flank the artillery, a battery of four guns, wheeled into position. Then came the order to halt, and the whole command faced its general, his smiling bride, and scores of visitors....It formed a scene, according to one of the participants, which 'no soldier could look upon without feeling his blood course proudly and his pulse beat bravely.'
... After this review, General Morgan and his division moved into Kentucky, where they spent two very hard weeks, much of it in sleet and cold. They traveled 500 miles and destroyed four bridges and 25 miles of track, as well as a vast amount of Federal supplies. Exhausted by this arduous journey, Morgan's men returned to Tennessee and reached Smithville on January 4, remaining there and at Sligo Ferry for the next ten days. On January 14, the division moved to McMinnville, where General Morgan established his headquarters; he felt that McMinnville was safe enough that his wife could join him there. He sent a company under Captain Quirk to Liberty on January 21, but they were driven out by Federal troops in a skirmish on that day. They returned the next morning after the Federals retreated, and were joined on January 23 by three regiments of Morgan's troops. These were under the command of Colonel Breckinridge and numbered about a thousand men; they consisted of the Third Kentucky under Lieutenant Colonel Stoner, and the Ninth Tennessee under Colonel Ward. Also in the area around Liberty and Alexandria were the Tenth Kentucky under Colonel Adam R. Johnson, and Colonel R.D. Allison's Tennessee Cavalry Squadron. Allison's Squadron consisted of three companies of mostly DeKalb Countians; they were among the few DeKalb County Confederates who did any actual fighting in their home county.
...Captain Quirk had his headquarters in the Methodist Church at Liberty, with his men quartered nearby and taking their meals with the families of Liberty. They did not discriminate between Confederate and Union sympathizers; one of Quirks men, B.G. Slaughter, remembered the family with whom he ate as having "a gentle wife and daughter and a peaceful-faced old gentleman, who had a son-in-law in Stoke's Cavalry." The men of Captain Quirk's company were described as a "jovial set" by Will T. Hale, who was a child living in Liberty at the time. He recalled being waked up by hearing Bill McCreary, Jim McGowdy, and others of the company singing "Lorena" or "Tenting on the Old Camp Ground." He also recalled another of Morgan's men, Jeff Citizen, who would get drunk and ride his mule around Liberty, singing out of tune:
I lay ten dollars down,
And bet them every one,
That every time we have a fight,
The Yankees they will run.
...In actuality, it was usually the Confederates who ran. The Federal troops, commanded by General John T. Wilder and frequently accompanied by Colonel Stokes' men, almost always outnumbered the Confederates; so Morgan's and Allison's men often found it wise to retreat to the safety of Snow's Hill. These retreats were referred to somewhat unflatteringly by Col. John F. Goodner, who wrote from his post with Lee's army in Virginia to his sister-in-law, Miss Lizzie Floyd of Alexandria on March 9, 1863: "I discovered that you have become the especial eulogist and defender of Genl. Morgan's Cavalry...It may be perhaps that it is their running qualities that you admire so much, for I understand that they double quicked from an inferior force of abolition....if you should lose him, you had better look in Owl Hollow up about Snow's Hill for him, for I am told that it is a favorite hiding place for him when the enemies and destroyers of your homes and happiness gets in pursuit.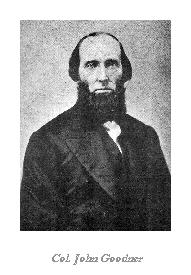 I am told, Moreover that you, Miss Josie and Miss Pattie Cartwright are having a gay time with these renegades from their Counties cause in this its greatest time of need and distress. I would not feed such men, in fact they are an injury to the Country, for their presence among you invites the enemy in, and when they come, your gallant admirers run away and leave their dear little sweethearts to their own defense. Shame! Shame!

...So much for Colonel Goodner's opinion of General Morgan and his men. Colonel Goodner, of course, was in the infantry, and the infantry usually had a low opinion of the cavalry. There were a great many Confederates who had a much higher opinion of General Morgan, and there is no question that he led his men on many spectacular exploits. The most spectacular was his raid into the northern states which began at Alexandria in the summer of 1863. However, he was always trying some sort of raid against the Federal forces, and he made one such attempt on January 29, 1863. On that day General Morgan, with Major Steele and Captain Carrol, came to Liberty and chose fifty men, Captain Quirk among them. Their plan was to dress in Federal uniforms, enter Nashville, and burn the Federal supplies there. At Stewart's Ferry on Stone's River they met the captain of a Michigan regiment with twenty of his men. Morgan talked to them, claiming to be Captain Johnson of the Fifth Kentucky Federal Regiment. His men started across the river, but the Federals saw their gray pants under the blue overcoats. Morgan's men captured most of the Federals, but a few escaped and gave warning, so that it was impossible to carry out the raid.
....On March 19, General Morgan arrived at Liberty from McMinnville, and that night he received reports that 2000 infantry and several hundred cavalry commanded by Colonel A.S. Hall were moving out from Murfreesboro. This Federal force approached to within five miles of Liberty, but then fell back to Auburntown. General Morgan decided to attack them at daybreak, and his men were called out. One of the men, R.L. Thompson, wrote many years later: " While in camp at Liberty, I remember one morning about two o'clock, while the cold rain was pouring down, Cooper the buglar gave the boots and saddle call quick and lively. At the same time Johnson's pickets were hotly engaged on the Murfreesboro Pike. We went briskly toward the sounds of the guns and continued to go until we reached the town of Milton."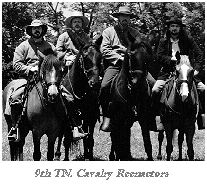 ...The Federals had fallen back from Auburntown to Milton, and Morgan was afraid they would escape without a fight. He therefore sent his men at a gallop after them; he and his staff followed immediately. As they passed through Auburntown they were greeted by cheers of the citizens and waving of handkerchiefs. General Morgan arrived on the battlefield just as the fighting began, and his appearance was a great inspiration to his men. One of Morgan's men, Bromfield L. Ridley, described his feelings at the time: "I had a thousand thoughts. Morgan was in the zenith of his fame. I was inoculated with the idea that his judgment was unerring and that the 'King could do no wrong.' In the mortal apprehension I never once thought of trusting in God for safety, but wholly relied upon the wisdom and skill of John Morgan."
...The Union forces had taken a position about a mile west of Milton on a rough, cedar-covered hill. There they were attacked by Morgan's men in a battle which lasted three hours or more. Grigsby's regiment was within fifty yards of the summit when their ammunition ran out; at the same time firing ceased along the entire line as the supply of ammunition was exhausted. General Morgan was furious, as he felt that within a few minutes his men would have captured the entire Federal force. Now they were forced to retire from the field. Morgan wrote to his wife from Liberty: "I have been very fortunate as to escape through another day's very severe fighting and escaped unhurt. The fight lasted nearly the entire day and was very severe. Our loss was very heavy, especially in the officers. Capt. Sale, of Co. E, Duke's regt, was among the killed, making the third Capt. that has been killed in that company." Every man in one company, he said either was wounded or had his clothes riddled by bullets. A total of about three hundred Confederates were killed or wounded. When Morgan's men returned to Liberty, the citizens of Liberty looked upon a sight they would never forget: the dead cavalrymen tied to their horses and the dead artillerymen strapped on the caisson and gun carriages.
...On April 19 a Federal force attacked McMinnville and almost captured General Morgan as he was helping his wife escape to Sparta. They failed to do so, however, and he made his way to Smithville. The Federals then approached Liberty, but the Confederates there fell back to Alexandria to join the division there. Both divisions then retreated across the Caney Fork to Buffalo Valley. They stayed there a week or ten days gathering stragglers and joined General Morgan at Cookeville on May 6. From Cookeville they moved into Kentucky and fought an engagement at Monticello, then returned to Liberty and Alexandria around the middle of May.
...On June 10, 1863, General Morgan arrived in Alexandria for the last time; tradition says that he again spent the night at Browning Tavern. Orders were at once issued to prepare the division to march the next day. On June 11, 1863, Morgan's troops marched out of Alexandria to embark on the greatest of all his raids, the one which would carry them through Indiana and Ohio to the farthest point north reached by any Confederate troops. The division was finally captured and imprisoned, but General Morgan made a daring escape from prison. However, he was killed by Federal troops in Greeneville, Tennessee, on September 4, 1864.
...The departure of Morgan's troops from DeKalb County on June 11, 1863, was followed in a short time by the withdrawal of General Bragg's Army of Tennessee from Tullahoma. Out flanked by Union troops under General Rosecrans, the Confederates had retreated by July 4 to Chattanooga. DeKalb County's greatest period of military action was ended.