. . . Allison's Tennessee Cavalry Squadron was raised March 1862, at Alexandria, TN., by Col. R. D. Allison, John S. Reece, and Robert V. Wright. Col. Allison and John Reece had previously served with the 24th Tennessee Infantry but had been discharged due to their age.
. . . The three companies that made up Allison's were mostly men from DeKalb Co. TN with a few from the surrounding counties. It was one of the few DeKalb units that actually fought in there home area. During the first half of 1863 it was involved in several small battles and skirmishes in and around Alexandria and Liberty.
. . . While camped near Liberty, the squadron was warned of the approachment of Federal troops from west of town. A guard of ten men was sent to investigate and near Salem church a column of Yankees was spotted. The guards opened fire on the advancing Bluecoats and quickly raced back to camp to warn the rest of the men. The firing had warned the men in camp and they quickly saddled their horses and started the supply wagons toward Snow's Hill, a steep high ground that was easily defended by the often out-numbered Confederates. A running fight ensued. At Dry Creek bridge, Capt. Wright's Co. C. stopped and waited for the Federals. Once in sight they opened fire, stalling the yankkes for a bit, then riding on. Capt. Reece's Co. B. used the same tactic a little ways up the road at the Stanford home. At Ashbury Church, Co. A., was able to hold the enemy long enough for the supply wagons to make it up Snow's Hill. This fight involved over 1000 Federal troops and a total of 75 Confederate troops, with 8 Yankees killed and 1 Confederate wounded. Believing that Allison's Cavalry was the advanced guard of Gen. John Hunt Morgan's command, the Federals did not attempt to pursue the units up the steep ground.
. . . One of the more humorous events of Allison's Cavalry took place at the Battle of the Forks of the Pike. Lieut. Ed Reece told of the incident. "Capt. Jack Reece's company of Allison's Squadron, which was camped near Alexandria, left the camps on Helton Creek, going west toward Wilson County. They were scouting for Yankees. None being discovered, they made a fierce attack on John Barleycorn, intrenched at Isaac Smith's stillhouse, on the road leading north from the present store or post office called Mahome. Turning back toward Alexandria directly, they learned of an engagement going on near the Forks of the Pike, and galloped in that direction. Reaching the scene of the battle, Captain Reece and his troopers took a position in the woods and awaited orders. While there Colonel Allison and the remainder of the squadron arrived. "Captain Reece" said Allison, "you have no buissness here. Withdraw your company." "Colonel Allison" was the reply (captain Reece feeling the stimulus yet over the victory of John Barleycorn) "Company B will remain where it is." "Captain Reece, you are drunk," asserted Allison. "Colonel Allison," snapped Reece "you're a damn liar."
. . . At this the two urged their horses nearer each other and on horseback engaged in a savage fist and skull battle. When both were nearly out of breath, and it was forced upon all that their energies were needed against the common enemy, comrades interfered
. . . In July 1863, Allison's Squadron moved to the Chattanooga area with the Army of Tennessee and in August was placed under Colonel George C. Dibrell, of Forrest's Brigade. With Dibrell the squadron fought the Battle of Chickamauga, where it suffered its heaviest casualties of the war.
. . . In October 1863, the squadron was reported in Major General Joseph Wheeler's Cavalry Corps., and spent the next several months in north Georgia, recruiting.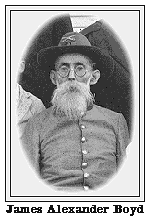 . . . In August 1864, Allison's Cavalry took part in General Wheeler's raid into Tennessee. General Wheeler, only 27 years old, took his 4500 men north of Atlanta, and within a few days, destroyed 35 miles of railroad track near Marietta and Dalton and burned a bridge over the Etowah. Near Knoxville, Wheeler sent Gen. Williams, with several companies including Allison's, to Strawberry plains to attack a Federal Garrison there. Finding it to strong, they attempted to catch up with Wheeler's main force, but always remained a day or two behind. Moving through Rutherford County, they fought a considerable battle on the Woodbury Pike. The men with Gen. Williams never succeed in rejoining Wheeler's group and eventually went to Saltville, Virginia, where they fought a battle and saved the salt works from enemy capture.
. . . Allison's fought at the Battle of Chatanooga on November 24, 1863, and also the Battle of Missionary Ridge on November 25, 1863. Books on these battles show Allisons in the Order of Battle.
. . . The last company reports from the Squadron were dated December 31st 1864, at Robertsville, South Carolina. Lieut. B. L. Ridley, in a journal entry dated March 27th 1865, stated: "This afternoon went with General Stewart to the depot, where we found Colonel Allison, a Tennessee Cavalryman, on his way westward with the body of his son, who was killed a day or two ago near Goldsboro trying to rescue some ladies from the clutches of the enemy." In the reorganization of Gen. Joe Johnston's Army, the Squadron was reported, on April 9th 1865, as part of Lieut. Gen. Wade Hampton's Cavalry Corps., and surrendered and was paroled as part of this Corps.